blog > trello and the beauty of simplicity
Trello and the beauty of simplicity
26th of June 2018 ~ tagged project management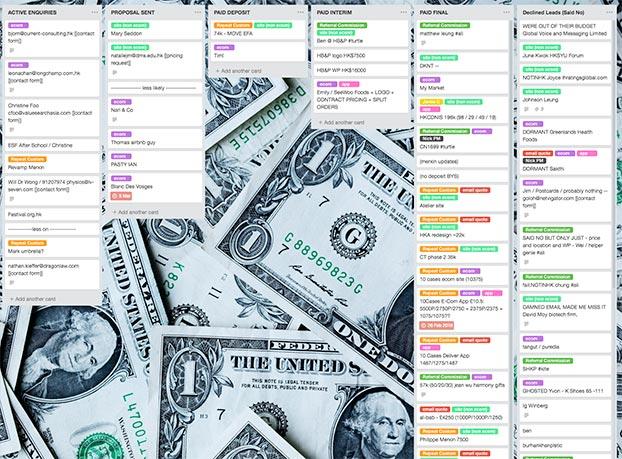 Trello has changed the way I work.
Inspiring in its simplicity, it is extremely powerful when you get to know it. Its list-based interface lends itself cleanly to multi-stage processes such as sales lead tracking and bug management. Drop incoming sales leads in at one end, and then shunt them into successive lists as things progress, the lists I use on my Sales board are as follows:
Active conversations

Proposal sent

Deposit paid

etc.
The board gives me at-a-glance a summary of that whole potentially-complicated area of the business. So perfect for the job that it could have been created to be a sales lead tracker – but it wasn't.
We also use Trello for maintenance task tracking. For our maintenance clients we set up lists such as:
Ready to go

In progress

Ready for inspection

etc.
Our development team will see the tasks waiting (or be assigned to one by manager), select a card and move it first into 'in progress', and then into 'ready for inspection' when the work is done. The client will move it into 'signed off' - or, if there's an issue with it, back into 'in progress'. Everyone can comment or attach files and checklists at any stage of the proceedings.
We encourage our e-commerce clients to use it to track incoming orders. Using IFTTT our CMS can automatically create a card whenever an order is placed, with the order number, total and address in the title field. Then as the order is processed it can be dragged through various stages until it is completed.
Trello began life as a software project management tool but by refusing to get too specific, it has retained a beautiful versatility and a wide range of uses. I've used it for everything from planning a camping trip to house-hunting to tracking blog ideas. Software should be more like Trello!